Quick re-cap of this project:
This year is Canada's Sesquicentennial – aka: 150th birthday. I went to Ottawa for Canada Day this year (or Dominion Day for those who go old school) which was on July 1st when some friends and I celebrated in 1867 style. If you're just tuning in you can see the finished outfit in this post.
The silhouette and style I went with is more 1867-ish than straight on 1867 because, to me, the whole 1840s through 1860s is such a snooze fest fashion-wise. I just do not like 1860s fashion; so I pushed mine more into 1868/beginning of the bustle-era. What's the point of making something that I'm just not interested in, right?
I'm doing a whole post on just the skirt supports because, lemme tell you, this was a whole journey in itself!
For reference, this was my primary inspiration for the dress overall:
I had initially intended to use TV 108:
However, I really love the look of this 1868 crinoline/bustle:
Unfortunately, there aren't any patterns specifically for this style in *these proportions* (that I know of, and I've looked – but if anyone can point me somewhere I haven't, please do!). In casting about to decide what to do I came upon Laughing Moon 112, which is for various crinolines and bustles, including this one:
Not exactly the same as the extant but pretty darn close! I was sure I could work with it!
And so here's mine:
So……I really love this! I love the shape with the graceful swoop at the back! It's going to be perfect for late 1870s Natural Form (especially under the dress I plan to make for my birthday party in October) but…..it's not got quite the volume I need for late 1860s. So I had a dilemma: do I make a different hoop? I could probably pretty easily alter the pattern of this one to make it fuller around the bottom, but that would mean making another one, which I wasn't keen to do again so soon. Or, do I add fluffy petticoats on top to add volume? I had hoped to keep this whole ensemble pretty lightweight because summer but I already needed at least one petticoat to go under the sheer organdy of the dress anyway, so maybe one more wouldn't be too bad? Maybe?
And my desire to not make another hoopskirt won out and I made a fluffy, ruffled petticoat to go over the hoopskirt:
Pretty, but this didn't seem to give enough volume for a late 1860s silhouette.
So, in my attempt to continue avoiding making another hoopskirt I kept adding layers underneath……
My small false rump and natural form ruffled train – pinned up to focus the volume behind the legs……
I made a multi-ruffled petticoat to go over these and under the single-flounced one….
And achieved this level of fullness. Not bad. Not great. But not bad.
This is how the dress skirt looked over top of the crazy conglomeration of layers.
Kinda meh.
I finally had to admit to myself that I was just going to have to make another hoopskirt. Oh well.
I thought about altering the initial pattern I used to add more volume to the back but finally realized that the best thing all round was to go with an actual elliptical crinoline and add a bustle/bustle pad on top.
Fortunately, it went together quite easily and quickly and I had enough left over hooping for it:
And I have to admit I think it's pretty cute.
I also decided to make something new to create a bustle effect over top of the crinoline, the Mantua Maker's travelling bustle pattern: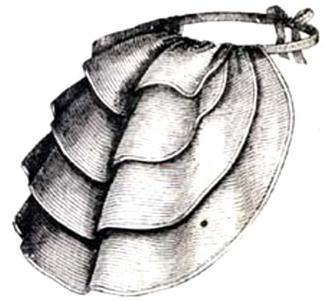 Now, in looking at online images of it made-up……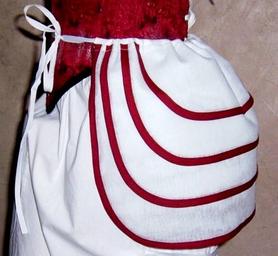 and at the shape of the pattern pieces….
The pattern didn't create quite the desired floof as-is.
So I did some pretty simple manipulation, mostly with slashing and overlapping to create shapes that I thought would better replicate the historical illustration:
A quick mock-up showed I was on the right track:
I used double layers of stiff cotton organdy (the cheap stuff from Vogue fabrics) and some cute bias tape from the stash.
It's a very easy make and the genius part of it is that the bustling effect is achieved with a drawstring threaded through the binding along the upper edge – so that when you go to pack it you can flatten it right out!
Pretty cute, huh?
Now, it does crush after a while. The pattern instructions say you can add fishing line (threaded through the perimeter binding of each layer) to make it more springy. It's not HA but can work. I think I may try this since I have some fishing line kicking around. If I were to make it again, however (which I just might!), I would make it out of double layers of hair canvas instead since it's naturally more springy.
Here's the elliptical crinoline + travelling bustle under the single-ruffled petticoat:
Here's how it looks under the dress skirt:
And here's a comparison of the two sets of skirt foundations under the dress skirt:
Makes quite a difference in volume, doesn't it?
And it's 3 layers instead of 5+
So, it was definitely worth it to make the new foundation structure and I really just wasted time in the end trying to make the first one work (that multi-flounced petticoat will be useful for other things but took me nearly a whole day to make!).
Has this ever happened to you? You make one thing, turns out not to be quite right, you try to make it work but ultimately just have to give in and make the right thing after all?