Happy Canada Day everyone! Or, for those of us who like to "kick it old school": Happy Dominion Day!
My husband, Andrew, and I celebrated this year by attending a pancake breakfast (with *real* maple syrup!) at the Canadian Embassy this morning.
We arrived a little late (I only got one strip of bacon *sad face*) but it was a pretty impressive turnout! They went with a Calgary Stampede theme this year, so were giving out all those white cowboy hats you see. However, we missed out on them by being late.
I'm ok with that.
(taken after things were really winding down – most people just wanted to get started on their 4-day weekend)
I love those giant flags!
Although I already have a great red dress that would have been perfect to wear, it's made from a medium-weight cotton sateen which I feared would be just too dang hot here in DC. So I decided to make myself a lighter-weight white cotton dress from this neat fabric that's been hanging out in the stash for some years and accent with red accessories. It's sort of an eyelet effect, but achieved through either stamping or laser cutting – the holes were quite crisp before I washed it.
I was determined to get photos with the giant flags!
I opted for this 1950s Simplicity 3925 pattern that I've had for years but never yet made up. I made a sleeveless version of View 1. Overall, I used it nearly as-is, just shortening the bodice about 1 1/4″, adding a little extra room around the waist (which it turns out I didn't really need – so this will be a good dress for eating big meals, lol!), cutting the front panel of the skirt on a fold, and reducing the size of the collar/lapels by 1″ around the edges.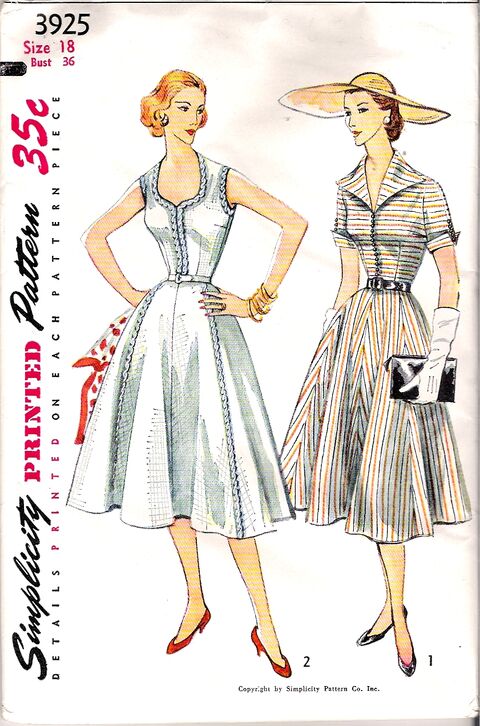 I did change a few things construction-wise. I made it zip up the back rather than the side because I HATE side zips SO MUCH!!
I lined the bodice in addition to using the facings because I like how clean it makes the insides. I used white cotton voile for the lining. This has become my go-to bodice lining fabric over the past year or so – even for my formal silk evening gowns. I find it's just the most comfortable-feeling, it's super easy to work with and adds very little bulk while still having enough oomph to hold up to wearing and washing.
I think I also meddled with the treatment of the back points of the lapel-thingies. From reading the instructions several times over I gathered that they were actually to be left free from the neck edge at the back. My copy of the pattern came without the pattern envelope and I can only find an image online of the envelope front, so I have no visual reference for how the back of the lapels is supposed to work. I took a look at this during the muslin stage, decided it looked stupid, so sewed them into the neck edge between the dress and the back neck facing. I like it much better this way.
As you can see, I also got lazy and sewed this as an exposed zipper because I did a lot of the sewing yesterday and just couldn't be bothered to do fancier insertion. I also kinda like how it adds a slight but of a modern feel to an otherwise very conservative look.
And that's really about it, so I'll leave off with a couple more shots of the embassy:
Hello Andrew!
How did you celebrate Canada's Birthday – if you're someone who does?